If you follow entertainment news regularly you may have heard that Youtube star Lilly Singh was up for (and landed) a role in an upcoming film "Fahrenheit 451." It seems like she will be yet another Youtube success story.
Many fellow Youtubers have been able to make millions from the video streaming site over the years. Singh is no different. Through her comedy videos and now her film career Singh has become a recognizable face to many. How has that impacted her finances though?
Who is Lilly Singh?
Before we jump into Lilly Singh's net worth it may be a good idea to become more acquainted with her work. Singh was born on September 26, 1988 in Canada. While she was born in Toronto, her parents are from India and she was raised Sikh. Over the years, Lilly Singh has come to be a well known comedian, vlogger and actress. Many people, however, know her better by her Youtube name IISuperwomanII.
Launching her Youtube channel was Singh's attempt to battle depression. She was able to deal with her feelings through her comedic videos. Since launching the channel in 2010 Singh has accumulated more than 11 million subscribers and has gained over 1.9 billion views. In 2015 she moved away from her home in Canada to Los Angeles to further her comedy career.
In more recent years Singh has also began to focus on her music and acting careers as well. She has appeared as a background dancer in a number of music videos. The 28-year-old also voiced a character in "Ice Age" film and had a cameo appearance in "Bad Moms." She will also be playing a role in the upcoming film "Fahrenheit 451."
So, Singh has moved from Youtube to music to the big screen. What does that mean for her overall net worth?
---
If you are interested in Lilly Singh you may also like:
---
Lilly Singh's Net Worth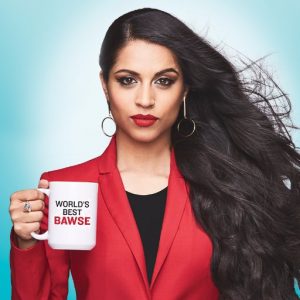 Like many other Youtubers, Singh's success was directly effected by the success of her Youtube channel. People enjoyed her content, viewed her videos and even shared them to their personal profiles. Her success came from her ability to be funny while other people's successes came from musical talents or their talk shows. Because of that success Lilly Singh's net worth is estimated to be an impressive $9 million.
Youtube was and continues to be a key part of Singh's regular income as well. Most successful Youtubers, like Singh, are able to rake in six figures a year from the streaming site. Combine her successful vlogs with a music and performing career, as well as endorsements from makeup companies, and you have a regular seven-figure-a-year salary.
Lilly Singh's net worth is among the highest where Youtubers are concerned. Last year Forbes listed her among the richest Youtubers, behind Roman Atwood and PewDiePie. Her success isn't showing any signs of stopping either. As previously mentioned, she just landed a role in "Fahrenheit 451." So, plan to see Singh on screens of all size for many years to come.
Photos: Canadian Business and Twitter
Amanda Blankenship is the Director of Social Media for District Media. In addition to her duties handling everything social media, she frequently writes for a handful of blogs and loves to share her own personal finance story with others. When she isn't typing away at her desk, she enjoys spending time with her daughter, husband, and dog. During her free time, you're likely to find her with her nose in a book, hiking, or playing RPG video games.