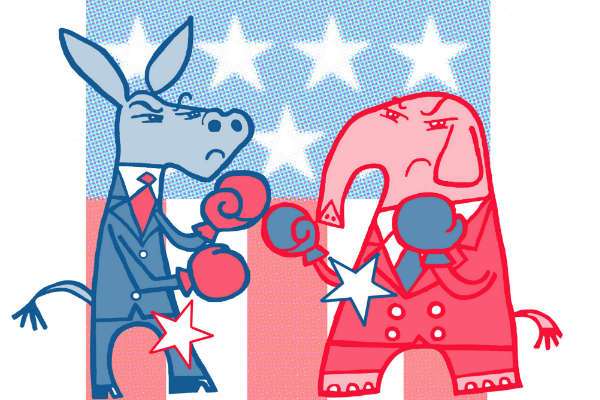 Which of the two political parties has more money? Most would rush to say Republicans due to the party's ideas overall towards tax and money. In fact, polls have shown about 60 percent of the American people believe Republicans favor the rich. But how true is that?
Which Party is the Party of the 1 Percent?
When it comes down to it, both parties receive substantial support from registered voters who make $100K+ annually. When it comes to fundraising for campaigns, Democrats actually come out ahead. In many cases, Democrats have been able to raise twice as much (or more) in private political contributions. But what about outside of politicians? Does that mean Democrats are the wealthier party? Which American families are wealthier? Republicans or Democrats?
Well, probably Republicans. When it comes down to it, the richest families in America tend to donate to Republican candidates. Forbes reported out of the 50 richest families in the United States, 28 donate to Republican candidates. Another seven donate to Democrats and 15 of the richest families in the U.S. donate to both parties.
Biggest Influencers: Democrats or Republicans?
The Walton family, behind the retail giant Walmart, has traditionally donated to Republican candidates. Alice Walton, the daughter of Walmart's founder, hasn't strayed from that too much. That is, until the 2008 election. In 2008 and 2016 the Walton family donated to Hilary Clinton's campaign.
She isn't the only person from a wealthy family to change tradition where politics is concerned either. Many of the younger individuals in America's richest families have begun to sway from their family's historic political choices. Below you'll find the affiliation and overall net worth of the top 10 richest families in America:
Walton – Republican — The family owns the Walmart corporation. The Walton family fortune is estimated to be about $145.3 billion.
Koch – Republican — Businessmen, owners of Koch Industries, a manufacturing company. Koch brothers have a net worth of about $41 billion each ($82 billion together).
Mars – Republican — Own the Mars candy company. The three children of founder Forrest Mars are worth about $11 billion each ($33 billion together).
Cargill-MacMillan – Republican — The Cargill-MacMillan family owns 90 percent of the largest privately-owned corporation in the U.S. The family, as a whole, is worth about $49 billion.
Johnson (Fidelity) – Republican — Overseers at Fidelity, ensuring the cash of millions of Americans. The family has a combined net worth of $28.5 billion.
Hearst – Republican — The Hearst family owns one of America's largest media companies. The family is valued at $28 billion.
Cox – Democrat — The Cox family owns a number of auto consumer sites and services (Kelley Blue Book,

AutoTrader.com

, etc.). They have an estimated net worth of $41 billion.
Pritzker – Both — Founders of Hyatt. The family has a combined value of $29 billion in 2017.
Johnson (S.C. Johnson) – Republican — The Johnson family is known for their cleaning products and hygiene products. They are valued at $30 billion.
Duncan – Republican — The Duncan family works mostly with oil and pipelines. The family is valued at about $21.5 billion.
Democrats or Republicans: Who Has the Higher Income?
Looking at the numbers above it is easy to assume that Republicans are richer than Democrats, overall. This is only a look at the richest families in America though. In everyday American households, it seems that Democrats have a higher mean salary than most Republican families. So, although many of the wealthiest families in the country are contributing to Republican campaigns, families registered as Democrats have higher annual salaries than Republicans, statistically speaking.
These findings still have some loopholes in them, of course. For instance, the data was collected over the last 40 years or so. As you know, demographics are constantly changing and these figures may have been affected as well. There is also a margin of error with every type of data collection like this. So, what do you think? Who is richer? Democrats or Republicans?
Photo: Odyssey Online