6 years ago I was in an unhappy marriage, living in a tiny 1 bedroom flat under someone's house with my now ex husband and two daughters. I hated my life, hated myself and felt I had to give up the hopes and dreams I had for travelling, working from home, a bigger home etc.
Fast forward to 2016, I am a published author, international speaker, have won multiple international awards, travel for fun and often have to pinch myself I cannot believe this is my life. It hasn't been without trials and at times is extremely stressful, it has been worth it though.
Never give up on your dream life! You can create a life you love and it doesn't have to cost the earth.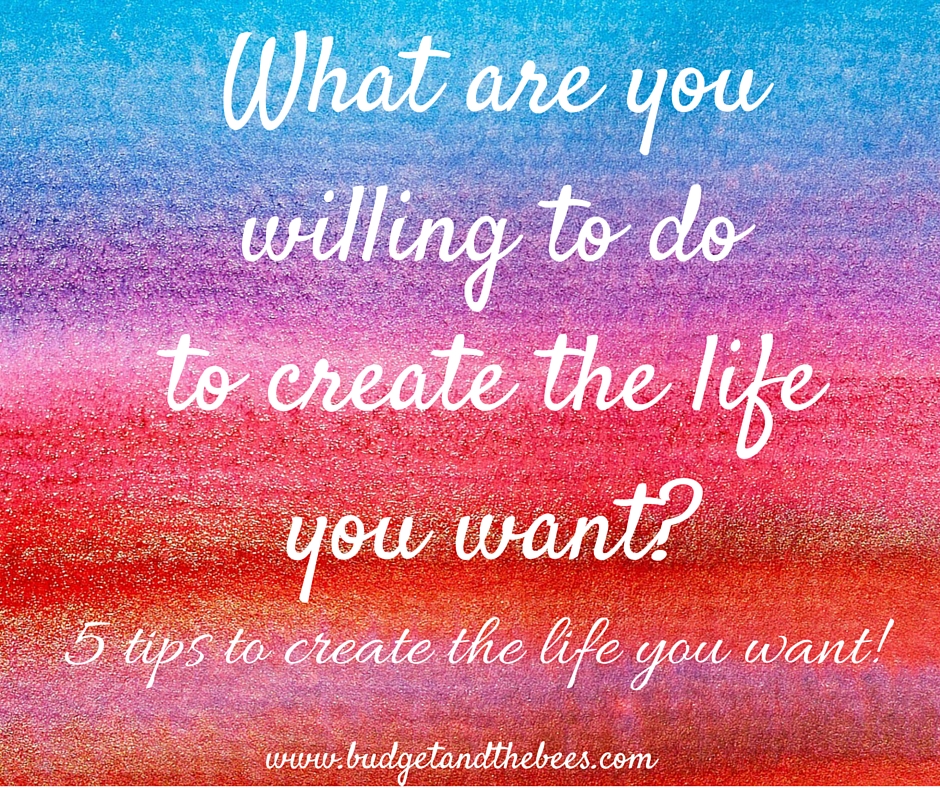 It takes determination, dedication, support and a strong desire to create a life you love. Here are 5 tips to help you.

1.) Get real about what you want
Since I was a kid I wanted to travel the world. I wanted to live in different cities, take my children places. I wanted to own a home, work for myself, be an author and live life on my terms. I wanted to help other people as much as I could, particularly the less fortunate.
Instead, at 19 I got married, we bought a house in an area I didn't like, I had my children, the travel and fun was missing. Finances were always tight, it was stressful and my husband was abusive. I was living my idea of hell and the only thing getting me through were my two daughters. I love them so much and wanted a better life for them.
I sat down, write out where I want to be in 5 years, where I want to travel, what I want to experience, know and be doing. I worked out my core values then set about living my life according to them and doing what I could to create my dream life a step at a time.
I didn't know how I would do it at first, I knew change was needed though.
Take time out to work out what you want your life to be like. Visualise it fully then create your plan to achieve it.

2.) Be smart with your money
No one's dream life involves being massively in debt, or at least it shouldn't, yet all too often we hear of or fall victims too 'keeping up with the Joneses'. This benefits no one except the banks.
If you truly want a life you love, be smart with your money. Look for ways to get what you want for free (legally!), work out what you need to do to earn the money you need, don't go into debt and don't let the lives of others fill you with envy. Envy often leads to poor decisions and always leads to unhappiness.
Take control of your money and use it to create a life you love instead of letting it control you.
3.) Set goals
Once you know what you want, set goals to do it. Take it one step at a time instead of trying to tackle your whole life at once.
To do this, I write SMART goals – Specific, Measurable, Attainable, Realistic and Time Bound. This ensures I know exactly what I am doing and when. I break it down into bite size chunks then tackle each one, one day at a time.
4.) Take action
A goal is pointless unless you take action. Knowing what sort of life you want and taking the steps to create that life are two very different things. Plans without action are nothing.

5.) Let the universe know
Tell everyone, make it public on your own blog, create a vision board, do whatever you need to do to put it out there and let others know this is where you are headed. If you don't put it out there, others can't help and support you, random coincidences are less likely to happen where you are connected with who or what you need.
Put it out there and it is more likely to come to you.
What does your dream life look like?