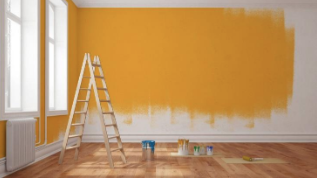 Remodeling is all the rage. According to a survey from Trulia, 90 percent of homeowners plan to remodel their homes, with 40 percent expecting to complete the project within the next two years. And most of those people aren't even planning to upgrade their homes for the market; only about 7 percent of remodelers are looking to sell afterwards. Considering that most remodelers plan to spend over $35,000 on the project, it's safe to say that renovations are so hot right now.
However, before you get out the tile samples and start eyeing cabinet configurations, you might want to consider that renovations aren't always an ideal way to spend your hard-earned cash. In fact, the vast majority of remodeling projects don't add as much value to your home as you spend. While major kitchen and bathroom upgrades are popular, they typically only return 80 percent of the investment.
For your money, minor renovation projects are where it's at. Here are a few smaller updates you can make without wasting thousands upon thousands of dollars on an over-remodeled home.
Freshen Your Color Scheme
The past few years have been dominated by whites and grays, but those hues are on the out. Designers and homeowners alike have largely been turned off by these colors' overuse in interior design — applied to everything in a room from the floor to cabinets and countertops to wall colors and even furniture — and the cool tones are starting to make rooms feel cold and lifeless.
If your home is suffering from this outdated color scheme — or any other old-fashioned palette — you don't necessarily need a total remodel. Instead, you might breathe new life into the same space with some paint and wallpaper. The following tones are especially en vogue this year and should remain relevant for a few years to come:
Warm neutrals, like tan and light brown
Muted pastels, like lilac or mist
Paint Your Cabinets
Outdated kitchen cabinets are a common homeowner complaint, but a new set of cabinets can be pricey. As with your walls, you can apply a coat of paint to your cabinets to revolutionize the look and feel. These days, cabinets in moody hues, like black, navy and forest green, are popular, but white cabinets remain timelessly attractive.
However, before you pull out your paintbrush, it's important to note that you need to be careful with how you paint your cabinets if you want them to look nice and function well. Typical paint won't adhere well to finished cabinets, and it could cause your doors and drawers to stick. You need to prep your cabinets by cleaning them, sanding them and priming them, and you need a way to dry your cabinet door and drawer fronts without marring the new paint. It might be wise to hire Chicago handyman services to tackle this project simply because it can be so complex.  Fortunately, outsourcing cabinet painting is still much, much cheaper than buying an all-net cabinet set.
Refinish Your Floors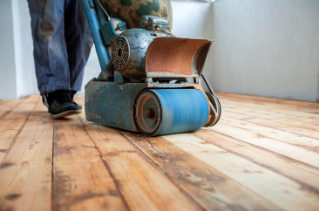 New tile and hardwoods would be nice — but redoing your floors costs a pretty penny. Instead, you should consider sprucing up the floors you have. Power-cleaning and waxing your tile, getting years-worth of grime out of your grout, could leave you with a fresh-looking floor. If you have hardwoods, refinishing them could give you the like-new effect you want; by sanding down your existing floors, you can stain them any color you like and finish with a strong seal to keep them looking good for decades to come. While both of these projects are things you can DIY, they will take an abundant amount of time and effort, which means you might want to hire a local handyperson to perform these jobs, too.
Enliven Your Landscaping
Believe it or not, landscaping is the only upgrade you can make to your home that provides more than 100 percent return-on-investment. These days, homebuyers want more from their yards than they have in the past; outdoor living spaces are popular, which means it could be worth your time and money to expand your patio or deck and add features like a built-in grill or outside sink and fridge. Patio furniture comes in nearly as many styles as indoor furniture, so you can find high-quality furnishings for your exterior entertaining space, as well. With a fire pit, whimsical string lights and some shady trees and bright flower boxes, you could have an attractive and enjoyable landscape.
If you are still dissatisfied with your home even after these minor changes, you might consider a major renovation — or you might consider moving to a new home. While remodeling is fun, it isn't always a smart financial decision. Look at your budget, talk to a real estate agent and contractor, and do what's best for your lifestyle and bank account.