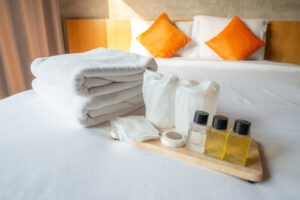 When you travel as often as I do, packing becomes an art form. But even the most seasoned travelers forget things sometimes. Luckily, hotel staff understand and may have what you need. In case you forget something important, here are 5 things most hotels offer as free amenities for their guests.
5 Free Amenities from Hotels
1. Food and Beverage
When you make your hotel reservation, it's safe to assume that it will include some complimentary food and beverage items during your stay. You can usually expect to find bottled water and single servings of tea and coffee in your room. But nowadays, many hotels also offer complimentary breakfast with their room rates. While this once only included continental breakfast items, many chains now have hot breakfast items available as well.
What you may not expect is that some hotels also offer free drinks during cocktail hour as well.  This can be a great way to meet other guests or start an evening out. However, your complimentary cocktails may be limited to one drink at check-in or a short window of time. In some cases, it may only be available to reward members or concierge-level guests. But if it's available, this is a great perk for weary travelers that can save you some money.
2. Toiletries
Even if you stay at a budget hotel, most rooms come stocked with free shampoo, conditioners, body washes, soaps, and lotions. Higher-end hotels may also offer upgraded products and more luxurious amenities like bath salts, robes, and slippers for extra pampering.
However, the front desk has even more toiletries on hand than you may realize. For example, if you forget any of the following items, you get travel-sized products during your stay:
comb
toothbrush
toothpaste
dental floss sticks
razors
shaving cream
deodorant
shower caps
hair spray
feminine hygiene products
lint roller
This is a much more convenient option than having to buy new items. Since hotels offer these free amenities to their guests, you can rest assured that you will be able to get all the toiletries you need for your daily routine.
3. Hair Styling Tools
On one of our last vacations, I under-packed and didn't bring all the tools I usually use to get ready. Although I knew that hotels offer additional toiletries, I was surprised to learn what other items they keep on hand. Most rooms come with the standard hair dryer. However, I discovered that many also have straighteners and curling irons as well. Although this may not be standard policy within the industry, it never hurts to ask the front desk if they have any when you are in a bind.
4. Electronics and Accessories
Chargers and adapters are another commonly forgotten travel item. In fact, I have an entire drawer full of the extra ones I have bought over the years as proof. But now that I know better, I usually check with the front desk before buying more to add to the collection.
In my experience, most hotels have a variety of chargers to fit every phone type. A few have even provided me with a universal laptop charger. And if you forget a universal power adaptor when you are traveling overseas, you can usually get one from the front desk. Hotel staff understand the necessity of these items and do their best to accommodate their guests.
5. Kids Stuff
When I travel alone, I rarely forget to pack things. But, this probability changes when traveling in a group or with kids. Fortunately, most hotels have items that can make traveling with your family easier. Instead of packing up the whole house, you can leave some things at home since many hotels provide:
cribs or playpens for babies and infants
high chairs and booster seats
nightlights
games, toys, and books
Although they won't have everything you need, many hotels offer free amenities to make your stay more comfortable. Anticipating guests' needs and having these items on site are just a few of the ways hotels can make trips less stressful and ensure your family has what they need while you're away from home.
Read More
Jenny Smedra is an avid world traveler, ESL teacher, former archaeologist, and freelance writer. Choosing a life abroad had strengthened her commitment to finding ways to bring people together across language and cultural barriers. While most of her time is dedicated to either working with children, she also enjoys good friends, good food, and new adventures.