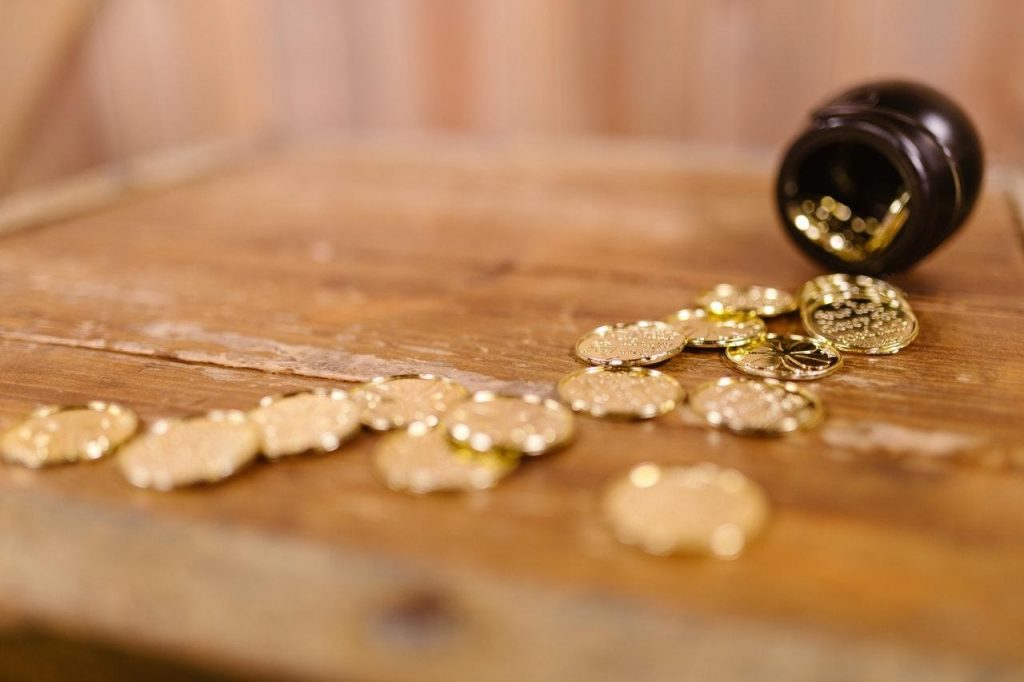 Money is the best story that humanity has ever come up with. Money is just that, a story. A lot of people may disagree with the idea, but the premise is true. A simple twenty-dollar bill is worth absolutely nothing. It's just a piece of paper. 
But everyone in the world has agreed that it has a value, and that's why we go through our lives and correlate objects with the imaginary price that we set. It's the one thing that keeps society together. It's also the thing that makes us different from animals. Click on this link to learn more. 
Sure, we invented tools too, but the work we do with those tools needs to be paid for by somebody. Humans are the only species on Earth that can function in extremely high numbers by imaginary rules. Sure, there are bees that exist, but that's a hierarchy that's oriented for the queen bee. 
If the queen bee dies, there will be complete anarchy until a new one is made. The same thing is true for ants. The ants from one colony can't mix with the ants of another colony, and the same thing is valid for bees. However, we, as humans, can go to different countries and work together. 
How is that possible? The answer is money. If we both agree that I will do you a service for a fixed amount of paper banknotes, then you will trust me, and I will trust you. This is the basis on which countries function, and the same thing is true about you and everyone else apart from your family and friends. Well, how does gold come into the equation? 
Gold was used as money
A few thousand years ago, gold was used as a currency. Ancient civilizations praised this metal because it reminded them of the sun. In many cultures, the sun was worshipped as a god, and that's how the value was given to this metal. Visit this link for more info https://www.capetalk.co.za/articles/416603/invest-in-precious-metals-such-as-gold-a-guide-for-south-africans. 
 Fast forward to today, there are still countries that are backing up their printed banknotes with this precious metal. For individual investors, an opportunity exists to invest a part of their portfolio in this precious metal. There are a couple of ways in which you can do that. The first one is in bullion. The second one is in coins. And the third one is in an ETF or a mutual fund. We'll cover all of them. 
Bullion 
When you think of investing in gold, this is the first thing that comes to mind. There is a large bar made of it, and banks are hiding them in their safes. In order to get one of those bars, you need to have it certified for weight and purity. 
Of course, this means that the item itself must have a serial number, which is done to ensure that it's yours. The same thing was done thousands of years ago when kings embedded their coins with their faces. That is the same thing as the signature on a dollar bill. 
The best thing to do is to get smaller chunks instead of one big bar. That makes a lot more sense. Imagine if you have one bullion and you invested a couple hundred thousand dollars for it, and you want to sell 10 percent of your portfolio. You can't take a saw and cut it off. That makes no sense. Instead, it's much better to have more liquidity and sell during times of crisis.  
Coins 
Investors were not too bullish on coins during the 2000s, but after 2010, everything changed. Everyone knows about the crisis in 2008. It was a bad time to be in the investing world. Everything crashed and burned. The same thing is happening today with the pandemic. 
We are in a bubble, and no one knows when it's going to pop. As soon as a crisis happens, the cost of gold skyrockets. This is the reason why metal-res.com gold guide is good read if you want to know more about it. In the 2010s many investors made changes to their portfolios and included gold. These coins often weigh less than an ounce, which is a much better option than buying big bullion. 
Plus, if you get your hands on an old coin that has collector's value, then you could potentially become rich. It is better to sell them instantly to a collector for a higher price because it's much better to trade with the ones that are in circulation.  
ETFs and Mutual Funds 
An ETF stands for exchange-traded funds. This is where you buy shares that are backed up with a fixed amount of gold. That could start from a tenth of a pound and go up as much as you're willing to invest. These funds work exactly like the stock market. 
This is one of the best options for investors because the whole process is much easier than buying bullion or coins. You would be surprised to know that many mutual funds have a part of their portfolio invested in gold. 
There are few that are specialized only in the sector of precious metals such as silver and platinum. This is one of the best ways in which you can diversify your portfolio. If you're someone who's into cryptocurrencies, it makes sense to have a part of your portfolio in the real thing, rather than putting all of your money in Bitcoin, which is the digital equivalent. It's best to invest in precious metals during times of security and sell when there are times of uncertainty.