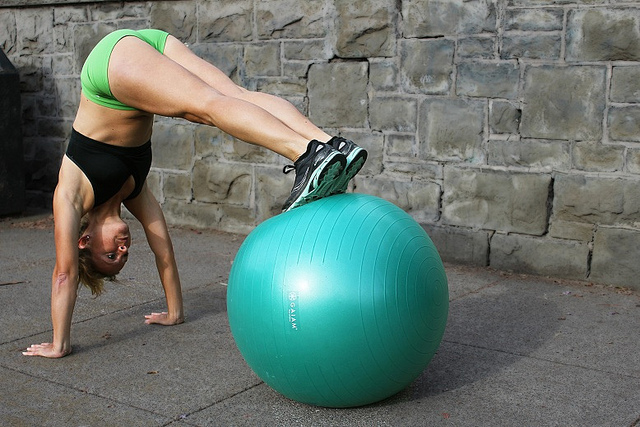 The new year has just begun and many people are resolving to get fit in 2017. You don't have to spend a ton of money on a gym membership to get in shape though. You can exercise
for free
with some of these great workout ideas:
Ways to Exercise for Free
Gym memberships can get expensive. You can always head to a place like Planet Fitness with a discounted membership but you know they'll be packed for the first few months of the new year. You don't have to spend that money though. There are plenty of ways to exercise for free.
Walking
Walking is a great form of exercise. You can incorporate walking into your daily routine by walking to places you would normally drive or setting aside time for a walk to exercise. Money Crashers suggested even joining a walking club so you don't have to walk alone.
Running
If you want to get your heart rate up running is a great way to exercise for free. All you need is a good pair of running shoes and a location and you're set to run.
Public Courts
Your hometown probably has a collection of public courts that aren't being used 24/7. Find out where your local courts are and what times they are scheduled to be full. Once you can find a free time for yourself and the court, you've got a free place to work out.
At-Home Equipment
If you've already purchased at-home exercise equipment you'll be able to exercise for free for years. However, if you don't already have the equipment this may not be in the cards unless you're able to find discounted or used equipment.
Hobbies
You can pick up a hobby that requires you to be active. Once you start enjoying it you won't even realize you're working out. The best part is your hobby can be yet another way to exercise for free. These are some great activities to use as exercise:
Disc golf
Parks & Rec classes
Swimming
Bicycling
Hiking
Dancing
Parkour
Yoga
Active video games (like Wii)
Volunteer
Play With Your Kids
Playing with the kids is one of the best ways to exercise for free. It seems your children never run out of steam. You'll get a great cardio workout chasing after them at the park or in the yard.
Clean
Cleaning is a chore, of course, but it can also be a great way to workout. Everyone works up a little sweat when they clean. Why not add some dances moves and singing and pick up the pace? You'll be exercising for free AND getting your house clean.
Play on The Playground
The jungle gym is another great place to get a free workout. Don't interrupt any child's playtime (obviously) but head to the local playground and do some acrobatics and climbing. You'll be surprised at how tired you get!
Create Your Own Bootcamp
Many people create their own "bootcamps." You can get a group of friends together and workout certain days of the week. Ask each of your friends to bring a different workout each day to keep things fresh. You'll be able to hangout and exercise for free with the support of friends.
Join a Team
If you don't have many friends maybe you'll want to join a small, local sports team. Many small towns have "association" leagues where you pay a small fee and are on the team. It is a fantastic way to both meet people and get exercise.
Sign Up for an Obstacle Race
Obstacle races usually cost money but you can find a free one occasionally. These races are a great way to work out. You get to run and use other muscles in your body to push through obstacles. A great example of this is the mud runs that have been happening around the United States. There are others where you are sprayed with foam or splattered with paint as well.
Save Money on the Gym
Even if you can't do the exercise you want for free, you can save money on memberships and classes. According to Health.com, you can use apps like Groupon and LivingSocial to save money on classes for CrossFit, yoga, Zumba and many other group fitness courses.
Photo: Fit Approach