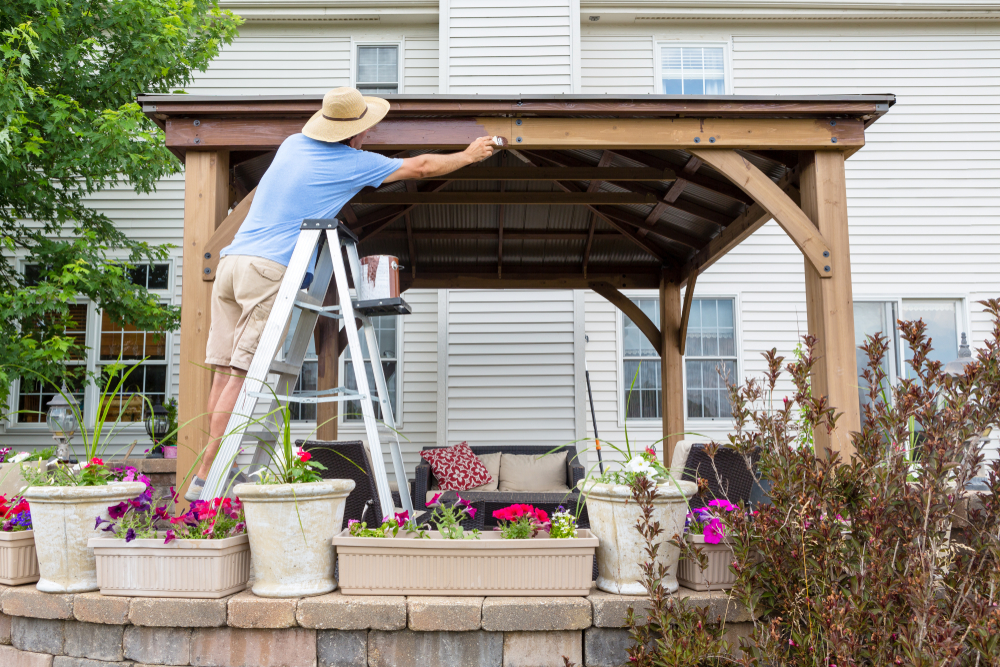 If you enjoy watching any of the backyard renovation shows on TV, you might understandably feel that it costs a pretty penny to transform a boring backyard into a gorgeous outdoor oasis.
In reality, you don't have to spend a ton of money to upgrade your backyard and patio area. There are a number of DIY projects that you can do in your spare time that will really improve the look and livability of your outdoor space. For inspiration and ideas, look no further.
Add Plenty of Color
For backyards with green grass and a gray cement patio, you can easily add in splashes of much-needed color by simply planting flowers. Purchase flowers from a home improvement store or your local garden center along with some bright planters. Plant the flowers and position the planters on your patio, near the rear doors or wherever else you need to liven up the space.
Hang Inexpensive Lights
If you have trees in the backyard or a covered patio, you can make your yard look like a fairyland at night with inexpensive strands of lights. For about 12 bucks a strand, you can transform your dark patio into a great place to hang out at night.
Upgrade Your Bulky Old Security Cameras With Something Snazzy
This tip will accomplish two things: it will make your backyard look more modern with the addition of state-of-the-art security cameras and it will help ensure that your backyard is monitored. Replace your old and bulky cameras with an easy-to-install security camera system that you can order online. You don't have to be an electrician to install the security camera system; you can opt for a wireless or wire-free system, decide where you want to hang the devices and install them yourself in no time.
Refurbish What You Have
Not many of us have extra cash lying around to buy a brand-new patio set. If you have wooden Adirondack chairs, for instance, that have seen better days or rusty metal patio tables, Better Homes and Gardens suggests repairing and repainting them. Sand down the chairs and apply a fresh coat of colorful paint that complements your new planters' colors, and buy a can of rustproof paint and fix up your patio table. You'll save a ton of money, keep your stuff out of the landfill and if you get your kids to help you, it can be a fun family project.
Make Your Own Stepping Stones
Speaking of your kids, they would probably also enjoy helping you with this project. To give your yard some visual appeal, you can add in some stepping stones. You can either buy them at a home improvement store, or you can head to a craft store and purchase some DIY stepping stone kits. Your kids can decorate them with their hand and foot prints, faux jewels and small rocks; when they are dry, you can create a whimsical path in your backyard that is also a keepsake.
Backyard Remodeling Does Not Have to Be Spendy
By all means, continue to enjoy watching those backyard renovation shows. But please also know that what happens on these programs is not always the way it has to be in real life — you can upgrade your backyard space in a number of colorful and beautiful ways and not spend a ton of money in the process.