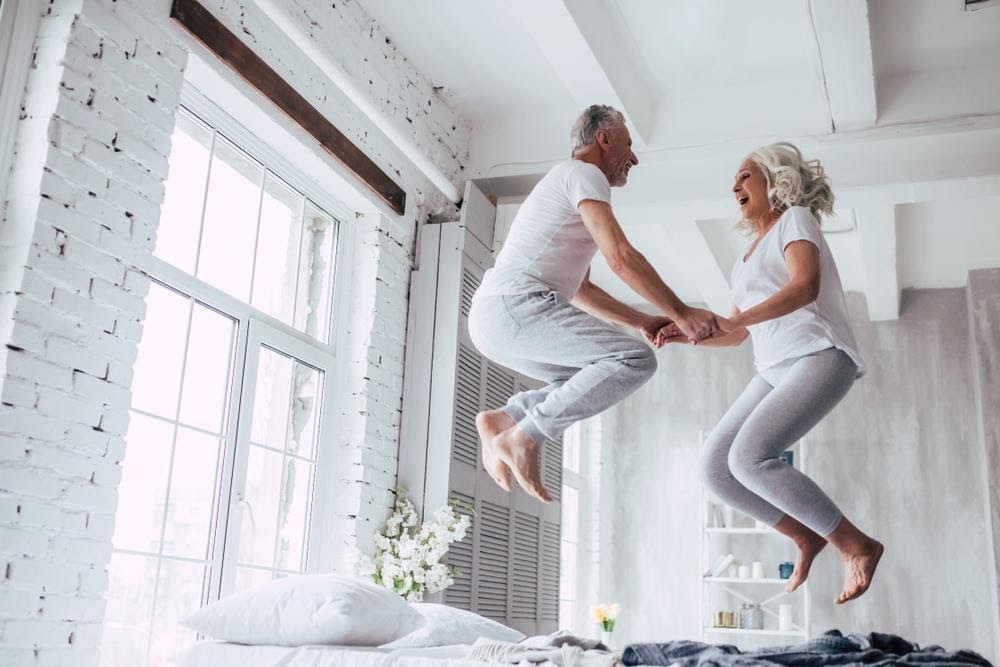 As you know, aging is no barrel of monkeys: there's loss of memory, a weakened bladder, and shrinkage of, well, everything. It's more like a barrel of woes you have to contend with as time marches on (and leaves footprints across your face!). But there are also a lot of pros that appear as you approach the official retirement age that you might not be aware of. If you are turning 65, here are a few tips to consider, like when to file for Social Security, when to apply for Medicare, and what senior bonuses you're entitled to as you move into your golden years. 
1. Know When to File for Social Security Benefits
At age 62 you are eligible to collect Social Security benefits, but only a fraction of what your earnings history entitles you to. You're not eligible for your full monthly benefits until you reach full retirement age (FRA). Contrary to popular belief, that does not happen at the stroke of midnight on your 65th birthday. Your FRA is dependent on the month of your birth. If you turn 65 in 2020, your FRA is 66 and two months. This means you will reduce your monthly benefit by almost eight percent if you file for Social Security benefits at 65 instead of waiting the required 14 months. 
Some people choose to wait even longer because once you reach FRA, you begin to accrue something called delayed retirement credits. A more secure retirement can be assumed with these higher benefit amounts gained by starting benefits at a later age. For married couples, this higher benefit amount becomes the "survivor benefit," which some seniors opt to use as a form of life insurance for the spouse who lives the longest.
2. Know When to Apply for Medicare
Though related, Social Security and Medicare are two separate entities. Just because you enroll in Medicare in time for your 65th birthday, doesn't mean you have to claim Social Security. It's just that many people have their monthly Medicare premiums deducted from their Social Security benefits; in fact, this billing happens automatically once you start collecting Social Security. If you decide it's best for you to hold off on Social Security, you'll need to make independent payment plans.
So when's the best time to apply? There's a magic seven-month window to apply for Medicare when you're first eligible. You can apply as early as three months before your birthday, the month of your birthday, and during the three months after your birthday month. 
If you miss the initial enrollment period, you can still sign up but only during the general enrollment period between January 1 and March 31 each year. That coverage will then begin July 1 of that year, and there's a good chance you'll be charged a late enrollment penalty. Also, the monthly premiums for Medicate Part B increase by 10 percent for every year you don't sign up for Medicare after you're eligible. So in this case, the early senior bird gets the worm and the late senior bird gets a hefty fine.
3. Know Your Senior Discounts
Come on, admit it. You've been looking forward to senior discounts since you first saw that special senior's menu at Denny's. Sure, retirement might mean a fixed income but it also means discounts on food, public transportation, entertainment, and hotels. 
For example, IHOP offers a special senior menu for those 55 or older (but you better have valid photo identification). AMC offers discount tickets specifically for seniors, Joann's Fabric has 20 percent off senior discount days, and Amtrak gives 10 percent off select trips to those over 65. Be aware, though, that senior discounts can vary vastly depending on your location, so always check with your local store for current rates.
Turning 65 may have it's drawbacks, but it also comes with some pretty sweet perks. If you're turning 65 in 2020, remember to claim Social Security benefits (if you are ready), tap into those Medicare benefits (remember the seven-month window), and take advantage of the whole new world of discounts that are yours for the taking. Your golden years just got a little shinier.