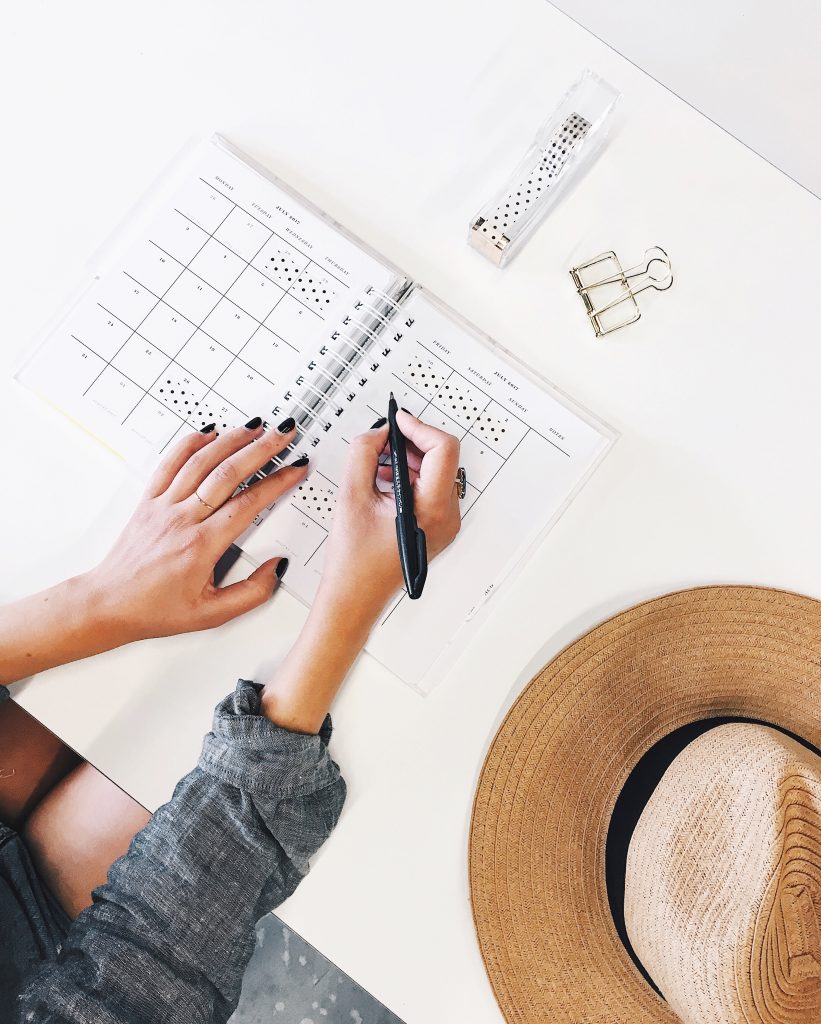 You may remember the small explosion of online challenges a few years ago. People on the internet were challenging one another to do squats every day, lose a certain amount of weight, and reach specific financial goals. Among these, money challenges emerged, encouraging everyone to save more, including the 26-Week Savings Plan.
How Do Money Challenges Work?
Money challenges, like the 26-Week Savings Plan, help individuals save money by providing a roadmap for doing so. Each challenge maps out a certain amount of money to be saved each day, week, and month throughout the year (or whatever the span of your challenge may be).
So, day after day, week after week, month after month, you're able to track and see your savings start to pile up. Certain savings challenges have helped people save thousands of dollars.
Most challenges like the 26-Week Savings Plan will have a printable guide for you to follow along with and track your progress. There are also a number of online communities you can join for support on your savings journey.
The 26 Week Savings Plan
Different money challenges have different plans for saving. For instance, the 52-Week Money Challenge helps individuals save more than $1,300 over the span of a year. The 365-day challenge, on the other hand, helps you save less than $700 over the same period of time. So, what about the 26-Week Savings Plan?
Well, the 26-Week Savings Plan helps you save around $1,300 over the span of a year, like the 52-week challenge. What makes the 26-week challenge different is that you deposit money into savings every other week instead of every week.
The 26-Week Savings Plan, also known as the Bi-Weekly Money Challenge, helps individuals save $1,378 in 26 weeks. To do this, you start by saving $3 for week one. After the first week, increase your savings contribution by $4. So, the second week you contribute you deposit $7, $11 the third week and so on. The savings plan will look something like this: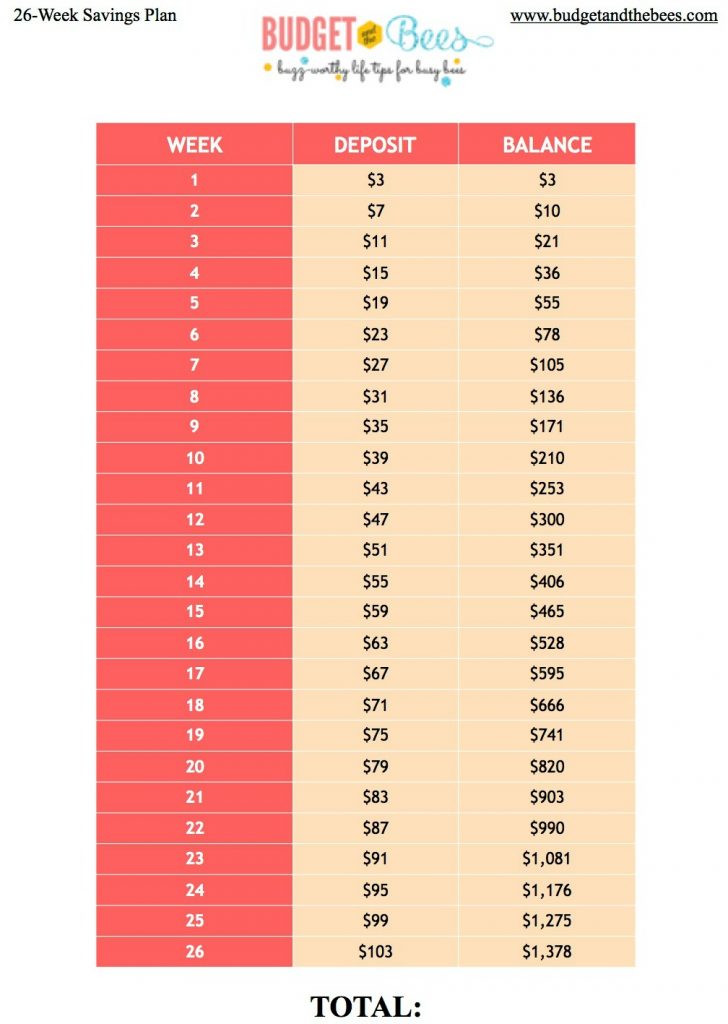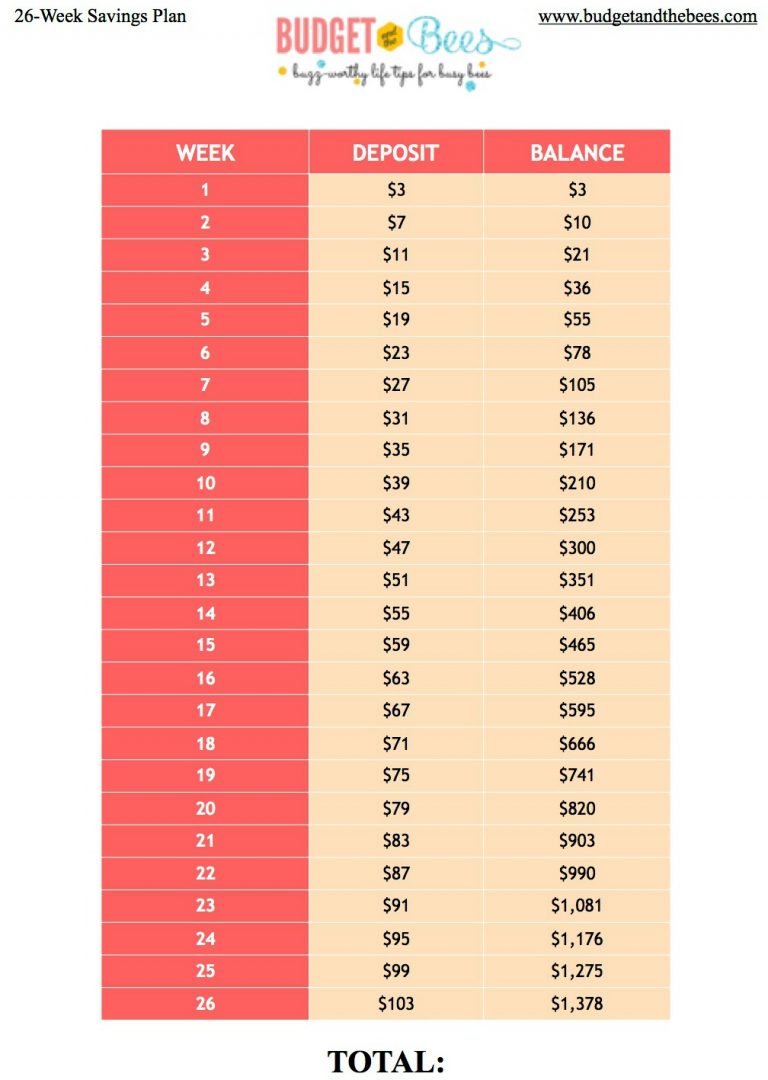 Download a blank printable 26-Week Savings Plan sheet to track your progress.
Other Money Challenges to Try
You aren't stuck with one money challenge to choose from either. There are plenty of money challenges out there for you to try. In addition to the 26-Week Savings Plan, you can take advantage of any of these challenges and save money as well:
Create Your Own 26-Week Savings Plan
If none of the already-made challenges fit your personal finance needs, don't worry. Creating your own money challenge is fairly simple. All you need is to have a savings goal, timeline, and a budget. Once you've budgeted your savings out and set a realistic timeline for yourself, create a way to track your progress.
Many people use spreadsheets on their computer or notebooks at home. Others like to deposit cash into a glass jar so they are able to physically see the progress each day. No matter what works for you, the important thing is that you are learning healthy saving habits. Continue practicing them and you'll be on the road to healthy finances in no time.