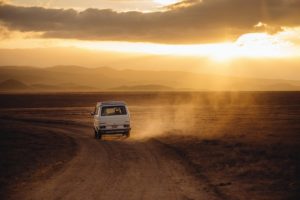 It is always exciting to make a last-minute decision to get away from it all and take a road trip to a new or even as yet unknown destination if you decide to just see where the inspiration takes you.
One of the things that might be holding back those carefree plans is a tight budget, but that really shouldn't limit your ambitions if you make use of some savvy ways to hit the road without breaking the bank.
Here are some ideas for a frugal but no less enjoyable last-minute road trip including a chance to catch up with old friends, an outdoor adventure idea, plus a way to keep the fuel cost down and why a city destination doesn't have to cost a lot.
Catch up with the past
You have got your Chrysler 300 on the drive and it seems to be calling out to you for some road trip action, so it would be rude not to disappoint, especially as you would be creating the chance to enjoy a memorable weekend away.
If you are looking for some inspiration on where to head it could be the perfect opportunity to catch up with some friends or family who you haven't seen for far too long.
Visiting family and friends is a great way to visit an area without the cost of hotel accommodation if they have room to offer you a bed for the night. What can be better than enjoying a home cooked meal with people you already have a connection with?
It is also a budget-friendly option too.
The great outdoors
Another winning idea that won't break the bank is a weekend trip to a National Park somewhere with a camping adventure thrown in for good measure.
If you are traveling with kids you will know how much they love an outdoor adventure, so it is a real win-win situation.
Even if you have to pay an entrance fee to get into the park, most of them charge per car rather than each person, and if you already have the camping gear or can borrow some from friends, your road trip that ends with an outdoor date with nature will be a memorable one.
Keep fuel costs under control
The one major expense that you will be facing with your road trip is filling your car up with gas.
Fuel costs can soon add up and even if you are making savings elsewhere you don't want to pay more to refuel than you have to. The solution would be to use an app like GasBuddy on your smartphone.
This simple app tells you where to fill up for the lowest price. That could make a big difference if you plan to cover a lot of miles on your road trip, and you can even calculate the cost of your trip before you set off.
Head to the city
Big city destinations are always worth considering for a road trip, especially if you know someone there who will be happy to let you share their place as a base while you explore.
The reason why city destinations can be a winner for the budget-conscious adventurer is that plenty of attractions like museums are free to visit, and even if you do have to pay something, you can often get an explorer pass that gives you access to loads of attractions for the one price.
If you are thinking of taking a last-minute road trip but are worried about the cost, don't let that hold you back, as there are plenty of budget-friendly options to take advantage of.
Melissa Douglas loves nothing more than forgetting all the stresses of daily life and getting away for a short weekend break where she can relax and rejuvenate.
Like Us? Sign Up!
Subscribe to get the latest budget buzz via email.