If you've been working on your credit you may be looking into different types of credit cards. Choosing the right card can be difficult. There are so many different kinds of credit cards out there: secured cards vs. unsecured cards, gold cards vs. silver cards and a number of other options.
What about one of the most popular credit card companies in the United States, Visa? What is the difference between the company's two most popular cards? Visa Signature vs. Visa Platinum?




Visa Signature Cards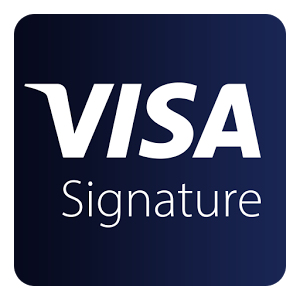 The first Visa Signature Card was introduced over a decade ago. At first it was launched as a premium credit card for people who were well off. One of the most popular Visa Signature cards is the Chase Sapphire Card, oftentimes considered to be a higher class credit card.
Today, however, the credit card is being offered to more mid-level credit card members. Additionally more and more banks are transferring their cardmembers to Visa Signature cards. One thing that worries many Visa Signature customers is that there is no clear credit limit for its users. For many customers the limit shown is the most money they've charged to the card in one month.
Visa Platinum Cards
Visa Platinum cards, however, have a definite credit limit for users to reference. Platinum cards were introduced more recently but they have many of the same perks the Signature cards do. So, what's the difference?
Visa Signature vs. Visa Platinum
The largest difference when it comes to Visa Signature vs. Visa Platinum is that Signature card accounts do not report your card's credit limit. This can be both good and bad. If you need extra money (beyond your credit limit) for an emergency a Signature card may come in handy.
On the opposite side of the same coin, having no credit card limit could potentially hurt you if you cannot control your spending. This could lead to debt that you're unable to control. However, if you're known for going over your credit limit the Visa Signature card doesn't have any over limit charges while the Platinum card does.
Not reporting your limit could hurt your credit in the long run though. By not reporting the credit limit on your card Visa Signature cards can create the impression that the use of your card is greater than it is (which is bad news if you're looking for a new loan).
Which Visa Card is Better?
So, you may be asking yourself, "Visa Signature vs. Visa Platinum: Which is the better card?" Well, it really depends on what you're looking to gain from your credit card.
Many customers have favored the Visa Platinum card in recent years because of the scenario mentioned above (no credit limit reporting). However, the Visa Signature's downfall can be looked at as its biggest strength.
After doing some research about the two cards one thing seems to be common though. If you are looking to build credit (instead of simply maintain), go with Visa Platinum. People who are looking to build credit need a card with a limit to show that you don't go over and can pay back the amount owed. If you are simply looking to maintain your credit as-is, you can go with either card and be unaffected.
Do you have a Visa card? We'd love to hear about what you think about the Visa Signature vs. Visa Platinum debate in the comments below. 
Catch up with your pending transactions, track finance records, send invoices remotely from anywhere using any device(PC/Mac/android/iOS) at an ease of single click by Hosting QuickBooks on the Cloud with citrix xendesktop with an affordable citrix xendesktop pricing powered with 24*7*365 days top-notch support from Apps4Rent.
Photos: Fosforix, WindowsPhone and FPCC Credit Union