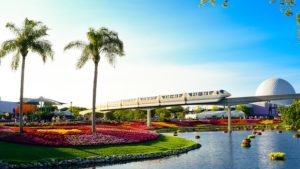 To think about Orlando is to think about incredible amusement parks. Since we are little and from the moment that these parks where open to the public the desire to visit them has become in the dream of millions of people. The reason why during the whole year these places have so many movement.Starting from the Disney World parks which are divided in several themes and are so large that you have to stay in the place with a lot of money to spend during a long time.
They are divided in: Epcot, Disney's Hollywood Studios, Magic Kingdom and Disney's Animal Kingdom and the water parks of Disney's Blizzard Beach and Disney's Typhoon Lagoon. Aditional to these spaces you can also find malls such as th Disney's BoardWalk and Downtown Disney to adquire the clothes you need, social events, live shows, sports centers and a long variety of resorts so the return to the hotel will not be tedious.
Following the Disney World, Orlando have several touristic points, one of them is the fabulous Universal Studios that is divided in 6 diferent áreas: Production Central, The Wizarding World of Harry Potter (London/Diagon Alley), Hollywood, New York, San Francisco and Woody Woodpecker's KidZone. In several of these áreas you will be able to enjoy of the used scenarios for most of the worlds famous movies.
If this is not enough you can also come close to meet the Kennedy Space Center where you will discover the darkest secrets of the NASA, go for a ballon ride in the city, go snorkel in Cape Discovery, visit the Gatorland park, got for a swim in Wet'n Wild or just go shopping at the Orlando Inernational Premium Outlets and the Florida Mall where you will find a variety of really appealing offers to your pocket.
Dont get bored during your vacations and dont let anybody ruin them, take advantage of the comfort that some service companies such as Viajemos.com where you can find accesible hotels in incredible locations near the places you want to go ore ven rent a car to be able to move around the city to your pleasure without wasting money in cabs or limited hours public transport.
Prepare to enjoy of all the activities that you want to do entering in your favorite website to consult the cost for each service such as hotels, transport, tickets to your favorite parks or even make reservations to the most wanted theme restaurants any day to eat the most exotic dishes you can find in the city and take with you the bests memories of the best vacations.
Like Us? Sign Up!
Subscribe to get the latest budget buzz via email.