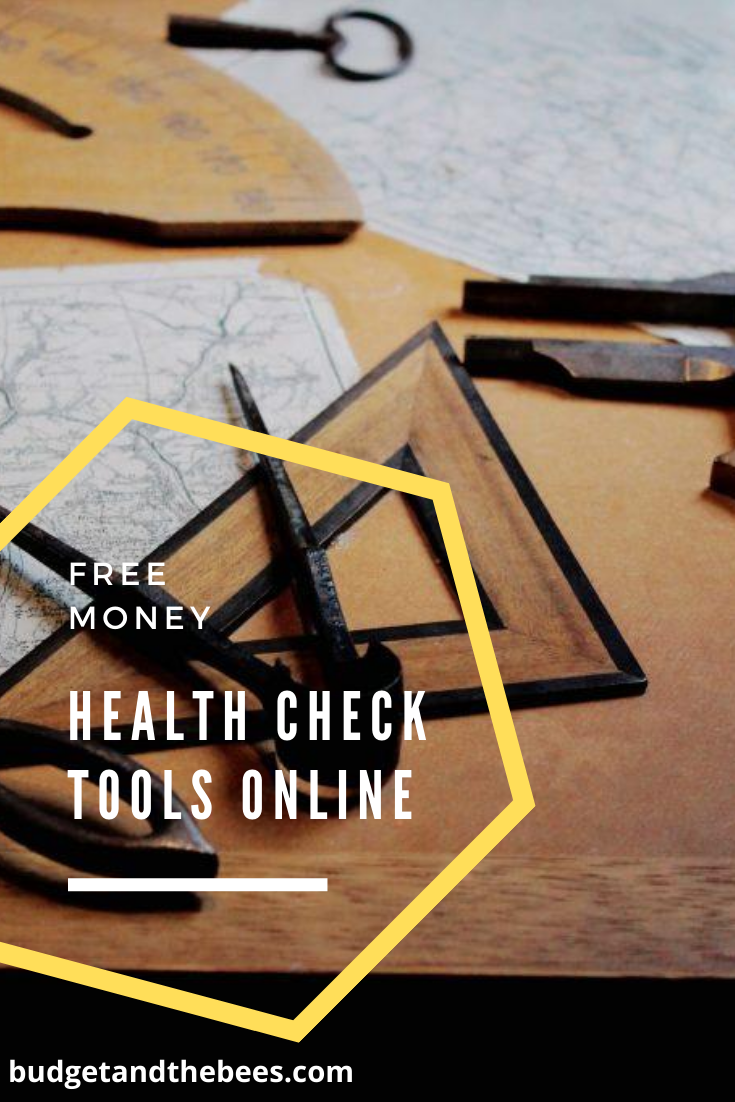 Personal finances are a source of stress and concern for nearly everyone. Most of us never received formal education or training in how to manage our finances and properly plan for the future. As we get older, and our responsibilities become even greater. In turn, the anxiety only gets worse. Rather than facing the truth head-on, many of us prefer to ignore the symptoms of a serious financial problem. Thankfully there are several free money health check tools online that can help.
Why You Should Use Free Money Health Check Tools
Just like your physical health, it is important to take a regular assessment of your financial health. The longer you ignore issues or put off taking action, the more complicated and difficult it becomes to untangle. It can be uncomfortable and even embarrassing to accept poor decisions of the past, but it is better to do it sooner rather than later.  The free money health check tools online are a great place to start. They only take a few minutes and give you a better sense of what you need to do to take charge of your personal finances.
Once you have a better understanding of your situation, you can plan your next steps. Several of the free resources also provide tips to help you improve your current circumstances. With an unlimited amount of free information online, there is no reason to procrastinate taking charge of your life and money matters. While the free tools point you in the right direction, you can learn even more from free interactive classrooms such as Morningstar.
When You Need to Perform a Financial Health Check-up
There are certain milestones in your life when a financial check-up is vital. First and foremost, you should take a hard look at your situation anytime there is a major life event. This covers a broad range of things that affect your immediate and long-term financial needs. These include but are not limited to a marriage, divorce, having kids, changing careers, going back to school, starting new business ventures and retirement, just to name a few. When circumstances change, so do your financial goals.
Another crucial time to take an assessment of your finances is when you are making large purchases or have huge expenses. These things require a significant amount of funds and could mean trouble if you are not prepared for them. For example, if you are buying a home or setting up an education fund for your kids, you may need to re-prioritize. These purchases will account for large portions of your budget over several years. You want to make sure that you allocate enough income for the years ahead.
Speaking of the future, it is also wise to use the free money health check tools online as you near retirement. Ten years may seem like a long time, but the decisions leading up to your retirements will determine your quality of life in your golden years. Conducting a financial assessment can help you avoid painful mistakes when you are most vulnerable.
The Best Free Money Health Check Tools Online
Now that you know know how these free money health check tools can help you, it is time to check them out for yourself. There are a number of free options available to you online. A simple search will bring up dozens of pages with tools that serve the same general purposes. They walk you through a standard series of questions about your age, filing status, savings, investments, debts, and retirement plans. However, the quality and scope of the analysis vary depending on the tool you are using. Here are a few of the most common and comprehensive money health check tools online.
Money Advice Service Money Health Check
The first search engine result that pops up for most people is the Money Health check created by the Money Advice Service. It is very easy to use and helps create a specific pathway to help you better manage your finances. The questions are very straightforward but only offer limited responses to select.
At the end of the questionnaire, you will receive an emoji to indicate your diagnosis. The color and expression give a basic assessment of your current situation. Personally, I did not feel as if it was comprehensive or tailored enough for me. While a short quiz cannot determine the full extent of your needs, this diagnosis was very limiting. However, it did provide some very useful tips and customized plans to put you on the right track.
Standard Life Money Health Check
 Standard Life is another place where you can find a free money health check tool. Like other similar products, it provides personalized ideas to help you  'shape up your money.' In addition to the standard questions, this assessment delves a bit deeper by asking more specific, quantitative questions. It asks you to input specific numbers related to your savings, debt and income to tailor it to your needs. After each entry, you also receive a pop-up for new ideas to help you reach your financial goals.
In addition to collecting more detailed information, it asks for your own assessment of your situation. Once you complete the health check, you can then compare your perception to their diagnosis of your financial situation. It then presents you with the tips noted throughout the survey. Unfortunately, the tip about maintaining a will contradicted my answer making question its accuracy. In the end, you have to remember this tool is meant to offer guidance and not professional advice.
Damien's Money MOT
Of all the online tools and assessments I explored, Damien's Money MOT was by far the most comprehensive and helpful. The questions were similar to the other money health check tools but eliminate irrelevant information. Instead, it focuses on twelve topics of personal finance and provides a grade at the end.
The highest grade is A+ and the lowest an E when compared to other people in your peer group. It even includes infographics and statistical comparisons. You can then see how you scored in each section and explore the action plan that is laid out for you. You can also decide if you would like to receive more information by email.
Making Cents of Free Money Health Checks
Although a free money health check is a great place to begin, it does not replace professional advice. They are merely intended to give you an idea of your current status. In addition, they offer common-sense tips to help you reach your financial goals. If you are in serious trouble or have specific questions, you should always refer to a licensed professional for advice.
Read More