Dealing with spiders in your basement is a frustrating situation. Some spiders can bite, releasing venom that can be harmful to humans and pets, while nearly all spiders spin webs that can make your space look less appealing. Eliminating spiders from your basement doesn't have to cost a lot. Here are a few tips to get rid of them in a budget-friendly way.
Restrict Spider Access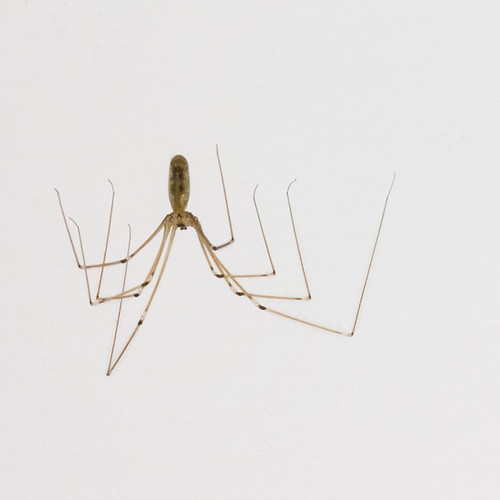 Image via Flickr by Me in ME
The first tip in keeping spiders under control in your basement is restricting their access to the area. A spider can move through a tiny crack or crevice, so look at all the exterior walls for any openings that they might be using to gain entry. Fill all cracks and gaps with caulk or water-based filler. Smaller cracks may be filled with spray coating.
If your basement has any entry doors, make sure they fit into their openings properly and don't allow any space around the frame. Spiders can move through surprisingly small gaps as they try to get into your home. Windows should also be fitted with mesh screens that fit the size and shape properly and prevent spiders and other bugs from making their way inside.
Use Spider Repellents and Traps
Spider repellents can also work as a prevention method. An ultrasonic pest repeller emits a sound wave that bothers spiders and other insects, often impacting their neurological and auditory processing capabilities. Instinctively, a spider that senses this type of wave will stay away. In the past, ultrasonic repellant devices were quite expensive, but they have become much more affordable.
Spider traps may also lure the eight-legged arachnids, where they will be killed by the material within the trap. Adding these to your basement can be part of an overall spider pest control plan that addresses existing spiders while also making your space less appealing for future infestations.
Make the Basement Less Appealing
Another step in the spider removal process is making your basement less appealing to an arachnid. If you have clutter piled up, stacks of boxes, or even a pile of wood in your space, these locations all serve as ideal living environments for a wide range of spider species. Clearing out the clutter and getting rid of stuff you no longer need eliminates places for spiders to lurk.
If you do have a woodpile in your basement, move it outdoors and place it away from your home. Black widows and brown recluse spiders, two venomous species, are known to hide out in woodpiles because of the access to insects that often live inside the pieces of wood.
Most spider species eat insects, so treating your basement for other bugs that may be present can also make the space less inviting to spiders as they'll no longer have access to an abundant food source. Natural, cost-effective insect repellents include peppermint, citrus, and eucalyptus oils, all of which are strong scents that spiders and bugs don't like.
With these tips, you can clean out the basement and get rid of the risks that spiders can pose in a living space. Best of all, you don't have to shell out a lot of cash to eliminate these bothersome pests.